Bathrooms
Right next to the Woolshed accommodation are the bathroom amenities which include male and female bathrooms containing showers and toilets plus a disabled bathroom with toilet and shower and ramp access.
Outdoor undercover
Enjoy a meal outside under the old hay shelter. Very large, so there is plenty of shade for everybody, and high enough to vent away heat from the corrugated iron roof. A great barbecue area and, in the winter, the perfect place to have a campfire out of the rain.
Camping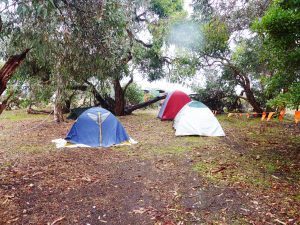 Close to the bathrooms is a grassy camping area surrounded by established island gum trees.
Television
A television in the living area is available to watch Australian free to air broadcast channels via satellite.
Telephone
Mobile phone coverage is limited. Australia's largest service provider Telstra has 3G coverage but signal strengths are variable around the property. A public phone is located at Vivonne Bay and at some island attractions.