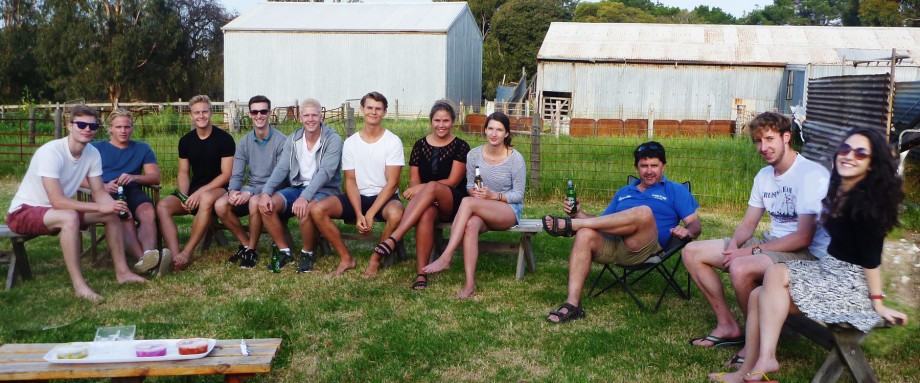 Had great two nights at your place … was really good! Have to revisit sometime! Had fabulous walk … on way back home now! We got the good weather on KI Wilderness Trail thank goodness!
Marie
Thank you! It was a great experience to sleep in the Bush. We enjoyed our stay a lot! (21-10-2016)
Luke and Lisa
Thank you! I will recommend this place to friends and other travellers. 🙂
Caitlin
Thank you for a lovely, peaceful place to recharge our batteries for the coming year. We had a fantastic time and will let all out friends know about The Woolshed KI.
Monika and Phil
THANK YOU for having us at The Woolshed KI. It was a fantastic place to stay and we loved it. We would love to come back again. Happy New Year. All the best with The Woolshed KI in 2016.
Scott & Shelley
Thank you!! A very unique, fun place to stay!!
Jim and Mary and family
Thanks guys for having us at the beautiful Woolshed, we loved it so much! What a great way to see in the new year. You've done a sensational job with the place. Hope to come back sometime!
Shelley
The owner, Andrew, was such a friendly guy - he got the bonfire ready for us upon our arrival. We all sat around the fire, chatted and got to know each other better. The master-chef Ricko cooked us a scrumptious dinner, as usual.
PJ Tan
We had an AMAZING time staying here. The wildlife is lovely. We wish to see you and your cute dogs soon. Thank you and Happy New Year.
Miriam
Really nice place to stay and sleep. Thanks for All.
Hong Fei and Amandine